30 December 2009
Candy Cane Infused Vodka
Hot Chocolate
I recently made some candy cane infused vodka to put into hot chocolate, here's what worked for me…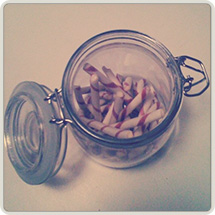 My Ingredients
ml of vodka (I used Smirnoff)
candy canes (I got some "Pure Fun" organic ones from Whole Foods)
Hot chocolate mix (whatever generic stuff they had at Whole Foods)
Hot water (or milk)
Whipped cream `
Preparing the vodka
Put the candy canes into a mason jar, break them up if necessary. I bought one of those glass jars with the metal clasps from Ikea. Add the vodka to the jar and seal it shut. The candy canes will take about 3 hours to dissolve completely, and you'll end up with a slightly yellow but deliciously peppermint tasting vodka. Now you can store the vodka—preferably in a dark, dry place—until you want to use it for the hot chocolate. Can be outside the fridge or in the fridge.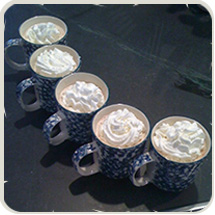 The Hot Chocolate
Prepare a 6 oz hot chocolate with just 5 ozs of water or milk and then add 1 oz of the candy cane vodka. Feel free to change ratios to whatever tastes best for you. If you're feeling extra decadent add whipped cream on top.
Additional notes
You're supposed to sterilize the jar before you put the candy canes and vodka in it, so they don't taste like something else. I just washed mine thoroughly
It may be easier to just empty a little bit of vodka out of a bottle and put the candy canes in directly. I didn't try this, but it seems like it'd work fine.
Organic candy canes taste better - I tried one of the organic candy canes back-to-back with a regular cheep-o one, and surprisingly the organic one smelled and tasted like a delicious peppermint treat while the cheep-o one smelled a little nasty and didn't taste as good. I saw some other people talking about bad results with candy cane vodka, and I wonder if the brand of candy canes was the problem. Here's the the link to the Pure Fun brand candy canes (warning: obnoxious website design).
It's almost the new year, use up those left over candy canes!